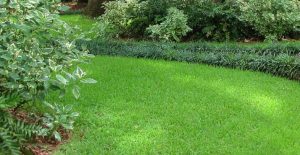 As stewards of the environment, we believe in treating each property as Earth- friendly as possible.  Green Earth Solutions is focused on the health of your landscape, your family, and our world, making sure it is a healthy place for our future generations.  As a Florida state licensed pest control and turf management company, we offer custom blended site-specific agronomic programs which include targeted treatments for weeds, insects such as fire ants, fleas, ticks chinch bugs, sod webworms etc., fungal pathogens and other landscape issues that often occur in both commercial and residential properties located in the North Florida region. In selecting and formulating our agricultural blends and bio-stimulants, we make every effort to use the most effective products with the least environmental impact.
By maintaining a healthy dense turf with a regular lawn care regimen, you benefit the environment in several ways. Water quality is improved because dense turf canopy dramatically reduces the potential for runoff and leaching while effectively controlling erosion. A healthy lawn absorbs rainfall 5 times more effectively than a farm field. Air quality is improved because turf traps dust and absorbs carbon dioxide.
A 50'x50' lawn will create enough oxygen for a family of four every day. It also reduces pollen generated by weeds, reducing the symptoms of allergy sufferers. Soil quality is improved as a healthy turf creates one of the best known ground filters for our aquifer. Finally, turf covered areas are substantially cooler and quieter than hard surfaces such as concrete, asphalt, or even exposed soil.
Many more benefits of healthy turf and landscapes have been documented in numerous research studies. For details, see the Catalogue of Existing Research and the report "Benefits of Green Space – Recent Research".
Proper maintenance of trees and shrubs result in many of the same advantages mentioned above. For trees, shrubs, and ornamentals, we provide specialized formulations of fertilizer depending on the plant species, insect controls for insects such as aphids, spider mites, scale, whiteflies, thrips, etc., and we treat leaf spot and fungal diseases with approved fungicides to correct those issues
If you have any questions or concerns about any of our applications, please let us know. We are happy to discuss our treatments and how they work symbiotically in a comprehensive agronomic program.